Whao!
The description says it all:
Fender Master Built Crash Stratocaster Electric Guitar
Plus A Pro Junior Amp
Along With A One Of A Kind Canvas Painting
By World Famous Artist Crash
It's all in the pic on the left. Look!
In short:
renowned Grafiti artist Crash painted a few Stratocasters for Eric Clapton in the 90's which prompted a custom shop limited series. And further, this integrated piece consisting of a canvas, an amp and most importantly to us: a masterbuilt custom shop strat'. The term Crashocaster was apparently coined by Clapton's guitar tech, Lee Dickson. (see below for more background)
Says the posting: "This is a unique guitar commissioned for a special project for a National Association of Music Manufacturers (NAMM) Festival. The artist combined for the first time canvas art and guitar and amp art and was thrilled with the results. It became one of his coolest and most favored pieces."

Hefty price tag on this
Fender Masterbuilt Stratocaster
: Buy it now at $24,000. But this is your chance to get a pretty unique piece of contemporary art and a guitar like Eric Clapton!
Although the whole piece would make the coolest guitar wall ever, this particular design on the guitar doesn't work for me. So, maybe you want to order your own direct from the artist (see this site:
Crashocasters.com
).
Or get a
Fender CS Eric Clapton Strat'
and a few spray cans and get creative!
My favorite Crashocaster designed for Clapton is the one he plays below. I think he used that one for the show in honor of his late friend Beatles George Harrison. He sure played it for the Queen Golden Jubilee (
video
).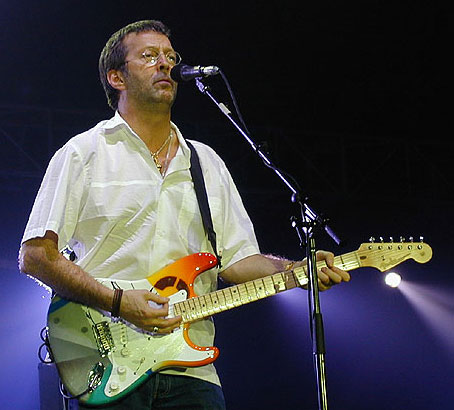 If you like crazy designs on a Strat', take a look at
the Fender Splatter
!
Some background on
John "Crash" Matos and his Fender design work
through Wikipedia:

Crash is a famous graffiti artist. As early as 13, John Matos was spray painting New York City trains, the full image art as opposed to simpler tagging soon transferred to silk screened canvas. He was first noticed through his murals on subway cars and dilapidated buildings,
he is now regarded as a pioneer of the Graffiti art movement. His work is said to convey a "visual link between street life and established society". By the 1980s Matos had exhibits across the United States and abroad. He was given his first gallery showing by Sidney Janis at the Sidney Janis Gallery in 1983.

In 1996, Crash painted an Eric Clapton Signature Stratocaster and gave it to the artist as a gift. Clapton went on to use the specially designed guitar through his 2001 tour and later appeared with another. In total Crash has created 5 guitars for Clapton, though only three of them have made public appearances. One of Clapton's "Crashocasters" (nicknamed by Eric's guitar tech, Lee Dickson) auctioned for $321,100(USD) b y the name of "Crash-3" and was used extensively during the first Crossroads Guitar Festival in 2004. Soon after Fender Musical Instruments commissioned the creation of 50 such graffiti designed guitars from Crash and named the line "Crashocasters."