Since I published my post about
the Epiphone Wilshire
, I've been meaning to write a follow up with more great vintage Epiphone models using examples found on eBay. So here we go!
The Epiphone Crestwood
First, the Wilshire's evil twin: the Epiphone Crestwood. There is
a beautiful 1961 Crestwood
up for grabs. Let me point out its nice features:
the mini-humbuckers (like the Gibson Firebird) - 1961 is the first year of production with those, replacing the "New York" pick ups
the oval markers on the neck (also a change which happened in 61) - note that there is no marker after the 15th fret. You're on your own for high-pitch solos!

the original transparent pickguard with the Epiphone E logo (which is surprising since the E got scrapped as part of the changes in that year of production too)

the unique tremolo with also an E logo (2 logos on the guitar in 2 different directions! that's wacky design :)
This could be yours for $4,500
(buy now option).
The Epiphone Casino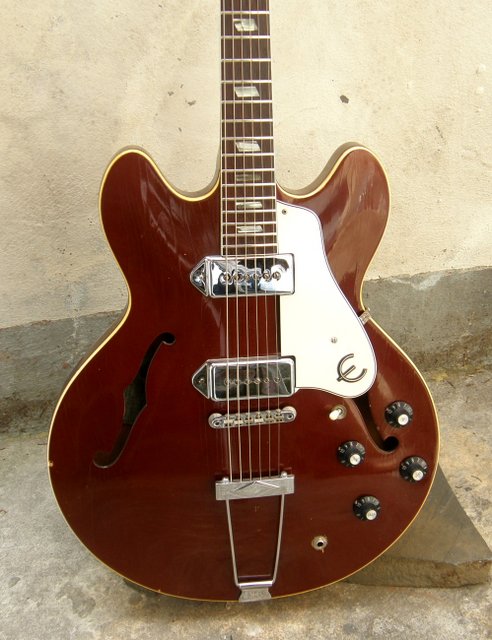 Going from solid body to semi-hollow (Epiphone's historical forte), the fairest of them all: the Casino!
What better claim to iconic guitar status than being the guitar in the hands of John Lennon for
the Beatles famous last show on the rooftop of the Apple building
. McCartney was actually the first Beatles to buy one -Lennon and Harrison followed shortly thereafter.
Back to our eBay example,
a 1967 vintage Casino
, one could say it is a Gibson ES-335 copycat. But what a beauty still:
still built in the Kalamazoo factory
it sports an awesome non-see-through burgundy finish
it has these nice "hexagonal" pick up covers (these are P90's under the hood)
I like the parallelogram inlays
the distinctive pickguard with the E logo is a nice touch (Gibson doesn't apply logo on pickguards)
And added bonus on this vintage: the cracks on the finish!
This one is "just" $3,850
(buy it now too).
The Epiphone Zephyr
The Year is now 1952. And you are looking at a gorgeous blonde archtop guitar,
an Epiphone Zephyr Emperor
. There is much to say, but in short:
can you believe this vintage guitar has been through half a century? It looks new!
the color and wood of the flamed maple top are breathtaking
the headstock is a piece of art in itself with these flowers and the logo in mother of pearl
the 3 New York pick ups and the push-button selector are not for the faint of heart
This one was
for sell at $4,500
but just got delisted by its vendor.
And that's it for now for vintage Epiphones. I'd love to get your comments below or
on twitter
.